31 Butternut Squash Recipes for Fall
For years I thought my Romanian grandmother's squash streudel was made with pumpkin.  Because the Romanian word, as I understood it, didn't distinguish between various squashes and pumpkin.  Americans had their pumpkin pie…our family had the (superior) pumpkin streudel.
It wasn't until a few years ago, while making my favorite lasagna that it suddenly dawned on me that the aforementioned "pumpkin" was actually butternut squash.  I knew I recognized that nutty, buttery, sweetness.  It seems silly that I didn't realize this before, but growing up I was rarely involved in the kitchen.  Now, as a grown woman and mother, I realize how much of my mother and grandmother's cooking I took for granted.   But then?  I had no idea.  Delicious food just sort of magically appeared on our table, in our fridge.
Butternut squash only seemed to appear inside of that streudel.  So I never noticed it.
Rich in vitamin A, C, and a good source of vitamin B-6 and magnesium, butternut squash is not only nutritious but extremely versatile.  But I like it because it's delicious.  Like a potato but better–at least for me.  I haven't yet convinced my kids of this.  But there's time!
Here are 31 butternut squash recipes for some fall inspiration.  29 were created by my dietitian colleagues and 2 are personal favorites.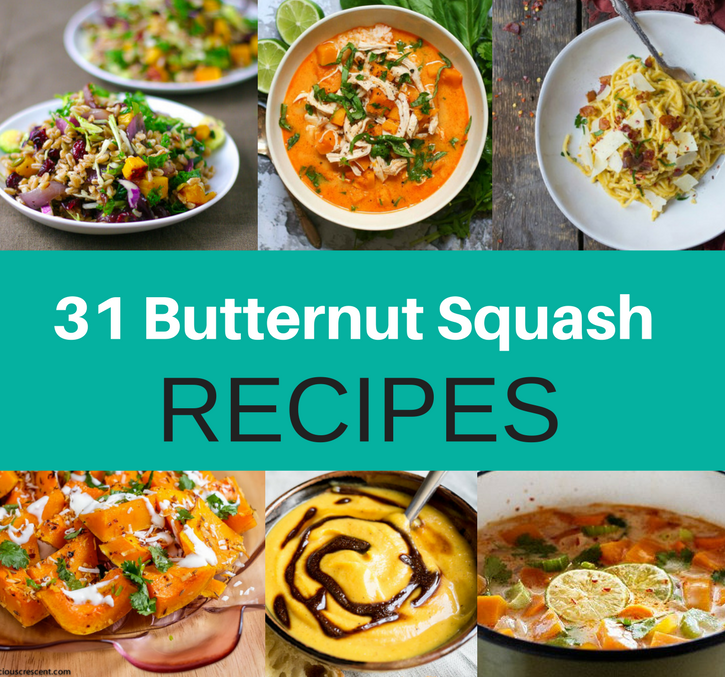 SOUPS
1 – Spicy Butternut Squash Soup
2 – Butternut Squash Gnocchi Soup 
3. Crockpot Butternut Squash Apple Soup
4.  Kale and Butternut Squash Noodle Soup
5. Butternut Squash Leek Soup
6. Spicy Butternut Squash & Pear Soup
7. Autumn's Best Butternut Squash, Apple, and Pear Soup
8.  Butternut squash apple soup from Adrienne at One Bite Wellness
9.  Caramelized Apple and Butternut Squash Soup
And a favorite of mine….
10.  Thai Lime Vegetable Soup

Recipe from Chatelaine.com
PASTA
11.  Butternut Squash Spaghetti Carbonara
12. Butternut Squash Caulfredo
13. Butternut Squash Pasta
14. Butternut Squash Noodles Carbonara with Mushrooms and Bacon
15. Butternut Squash and Pumpkin Pasta
And, MY personal favorite lasagna ever.  Pouring butter on top always seemed like overkill (or too much work) so I've never done it, but it is pure deliciousness anyway.
16.  Butternut Squash Lasagna
MAIN DISH
17.  Coconut Cumin Ginger Roasted Butternut Squash 
18. Fall Plant Power Bowl
19.  Black Bean Butternut Squash Tostadas
20. Beef and Butternut Squash Chili   
21. Thai Red Curry Butternut Squash Chicken
22.  One Pan Fall Vegetables & Chicken Sausage from Jennifer of Healthy Inspiration
23.  Slow cooker curried butternut squash chili
24.  Black Bean Butternut Squash Tacos
25. Baked Butternut Squash French Toast from Amy Gorin
SIDES
26. Fall Apple Cobb Salad
27.  Butternut Squash and Sage Crostini
28.  Sage Butternut Squash Risotto 
29. Roasted Butternut Squash with Pomegranate Sauce
30.  Farro Salad with Butternut Squash 
31.  Whole Wheat Butternut Squash Banana Bread 
There you have it!  31 ways to enjoy butternut squash this season.  Looking through this list I can hardly wait to start roasting and making soups!  Enjoy.